WE STAND BEHIND OUR SERVICES
Our Promise to our patients and referring doctors: 
We are very confident that you will appreciate the way you are treated at our office: from the first phone call, the easy and convenient online registration, our minimal radiation digital radiography (x-rays), to the amount of time we spend discussing the patient's condition, and explaining all options of treatment including the risks of treatment and non-treatment in a way that puts the patient at the center.
We will provide our patient-centered, state of the art endodontic treatment (or non-treatment) at the highest standards of current care.
Call our office at 818-552-3636 and make an appointment for your endodontic consultation/treatment, and feel CONFIDENT that you will be served by a knowledgeable and caring staff, by an experienced, and caring specialist who puts the patient's need first.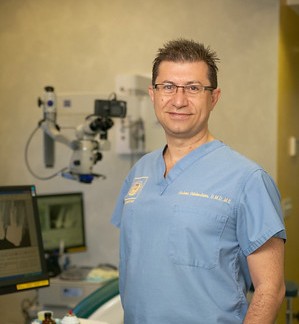 Our philosophy is to meet and exceed our patients' and referring doctors' expectations by providing Exceptional QUALITY, PROMPT and COURTEOUS endodontic treatment in a relaxed atmosphere.
To our patients and referring doctors, we promise to make prompt appointments available from when we receive the referral.  Furthermore, we will see patients who are experiencing pain and/or swelling the same day, 24 hours a day.  Complete dedication to our patients is our number one priority.
Dr. Odabashian is committed to providing service and treatment of the highest quality, that is up to date, and beyond what is expected by the patient and referring doctor.
Dr. Odabashian writes periododic newsletters, and gives presentations and lectures locally, nationally and internationally on topics that are related to Endodontics and Dentistry.  Click on the "Newsletter Tab" to read our Newsletter. We promise it will be Informative and Enlightening.