Modern Endo of Napa

Front Office Team
We are the first faces you'll see when you walk in the door. We consider it a privilege that you have chosen our office for your endodontic treatment. Let us guide you through the process, answering any questions and concerns you may have in regards to registration, insurance, financials, and what to expect at your appointment.
Yesenia Avina
Patient Care Coordinator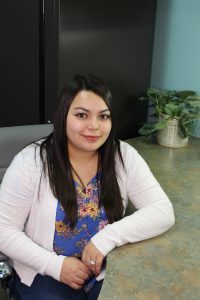 Hi, my name is Yesenia but people call me Jessie.  I am the Patient Coordinator at Modern Endo of Napa.  For those of you more comfortable speaking Spanish, I am bilingual, English and Spanish, and would be happy to help you.
I was born and raised in beautiful Lake Tahoe.  I love every season in Tahoe, then again who doesn't love Tahoe! I never saw myself living anywhere else, until I got married and moved to Napa.  I've enjoyed my time in Napa and all the beauty it has to offer.  I can relate Napa to Tahoe since in both we are surrounded with so much beauty and nature.
In 2014 I had an opportunity to take a Dental Assistant course at Lake Tahoe Community College.  During my course, I was an extern at a General Dental office, which was the start of my dental career. My experience at this office showed me I was in the right career path.  I obtained my Dental Assistant certificate; however, after having a taste of the front office position I loved it and stayed there!
I am very excited to be part of the Modern Endo of Napa team.  We all work so well together and share the same purpose for each and every patient which is to make sure all of our patients have nothing but the best experience and best quality of service at our office.  I enjoy getting to know our patients and making their experience comfortable.  I love having Leo, our registered good doggy by my side to greet our patients.

Fun Facts: I love country music, fishing and spending time with family and friends.
Zoë
Account Specialist & RDA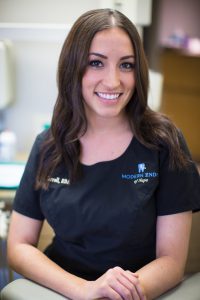 Hi, my name is Zoë!
I am the Account Specialist and a Registered Dental Assistant at Modern Endo of Napa. In 2018 I began working with Dr. Tigrett as an RDA. Apart from being passionate about patient care I have also discovered an interest in other essential functions of the front office such as billing, insurance and patient account management. I am here to assist our patients in determining insurance eligibility and counseling patients regarding their treatment plan.
A little bit about me. I was born and raised in Napa Valley. I attended San Diego State University out of high school, but an injury prohibited me from further pursuing a future in soccer at SDSU.  I changed paths and obtained my Registered Dental Assistant license.  I chose the dental industry because I love the idea of making a positive difference in people's health. I also have always loved going to the dentist even from a young age.
Dr. Tigrett's dedication to quality work and the team atmosphere I've experienced during my time at Modern Endo of Napa ensures me I have found my fit. I feel lucky to work with such an incredible team!
I enjoy spending my free time with friends and family. I love gastronomy, traveling, and spending time outdoors.
Fun Facts: A fun fact about me is that I traveled to Spain to watch one of my favorite futból clubs play, FC Barcelona!
Wendy Barba-Tigrett
Operations Manager
Hola y Bienvenidos a Modern Endo of Napa,
Thank you for choosing our practice for your endodontic care. I'm the office go-to person that ensures everything runs smoothly. My experience has been in building and improving business processes.
I graduated from Florida International University in 2002 with a BA in International Business and Management Information System. Right after graduation, I started my career in corporate America with first General Electric and later Coca-Cola developing business in Latin America markets.
My strengths have been in strategic planning, marketing and management techniques. This is where my MBA in International Business from Nova Southeastern University and certification of Commercial Management in GE Crottonville has paid off. Our team knows I am always implementing something; an innovative technique or process to help the workflow of our practice with the purpose to improve patient care.
For as long as I can remember I've dreamt of starting my own business. Never in a million years I thought that business would be helping my husband, Dr. Ryan Tigrett in building our Endodontic practice. I am very fortunate to be working side by side with my life partner. I've learned so much during my corporate days that I figured why not apply it to our own dental practice.
I am a very enthusiastic, dedicated, and energetic business professional. I am mindful that some of our patients come in to see us because they are in lot of pain. They say a smile can warm a room and laughter is the best medicine.  You'll know me by my laugh that fills the room. I also love to get to know our patients and their stories.  I had no idea how personal it can be working in a dental practice until I got here.
I must admit. I feel very blessed and honored to be working with the talented team at Modern Endo of Napa. Always striving for continuous improvement with a smile on their face.
In case you are wondering where the accent comes from?!? I am from Caracas, Venezuela. Raised in sunny South Florida. Destiny and a leap of faith brought us to gorgeous Napa Valley in 2014.
My Passions: Helping entrepreneurs grow. Empowering Latinas. Working out. Sharing wine country stories on my personal blog, NapaVale.com. Building more memories with my family and friends because life is too short to live the same day twice.
Modern Endo of Napa

Clinical Team
Dr. Tigrett with our exceptional team provides a state-of-the-art dental experience in a caring, comfortable, relaxing environment. We love getting to know our patients, starting with your first call, and building a one-on-one relationship with treatments tailored to your specific needs. Let our experienced team help you achieve a healthier, happier, more confident smile in a friendly warm environment.  
Marja Garcia
Registered Dental Assistant
¡Hola! My name is Marja. But you can call me Maria.
I am a registered dental assistant here at Modern Endo of Napa. I love making my team and patients laugh. I have been in the dental industry since 2013. I had the opportunity to intern at a dental office when I was 17.  Only after working in the wine industry for over 10 years, I decided to pursue my passion in the dental field.
I am bilingual, fluent in Spanish and English, which is great for our patients preferring Spanish.
I've lived in Napa my whole life and I cannot imagine raising my family anywhere else. My three boys are sports fanatics and our quality time usually revolves around sports; especially football. As a born and raised Raider fan, I have no idea how I raised 49er fans, but it makes for great entertainment during football season.
When our patients come into our office, I ensure that they feel as comfortable and relaxed as possible with my fun-loving personality.  It is extremely rewarding when our patient's leave our office with a positive experience!
Bienvenidos a Modern Endo of Napa. Mi nombre es Marja una de las ayudantes del dentista que habla español. Deseamos que su experiencia durante su cita sea lo más cómoda y tranquila posible.
Fun Facts: I am a foodie!! I love food, love to cook and love to eat!!
Leo
Registered Good Doggy
Hi, my name is Leo. 
Pronounced Lay-O. Most people say LeeOh instead but then I don't know if they are talking to me. You see, my mommy speaks to me in Spanglish and then adds in French here and there so I guess I know 3 languages. 
I was adopted by my parents Dr. Ryan Tigrett and Wendy Barba-Tigrett on August 7th, 2016. They drove 452 miles south of Napa to rescue me, Hesperia, CA to be exact.  
I am a mix of Yorkie and Poodle or what they call Yorkiepoo. My dad says I am stubborn like a Yorkie because I still pull on my leash. I think I behave well. I cry whenever I need to be walked and whenever I want some TLC. I do love company. If I could wish for something would be for everyone I love to live together in the same room. 
I usually get to the office around 8am and I am there until my parents are ready to play with me.  I bring my toys out to play as soon as its 5pm. I know I am still in puppy phase so my parents have me in the back office where I keep my mom company. I sometimes sit in the front desk next to Aunty Jessie so I can greet patients.  I love when the UPS guy comes to visit me because he brings me treats.  I can hear the UPS truck as he enters our building.  
I know its 5 o'clock when everyone starts heading out of the back office. Aunty Marja tries to scare me as she leaves. Aunty Zoe always pets me when she walks by, then I know for sure it's 5 o'clock! 
I've had some patients come to greet me in the back office as they are nervous to get root canal treatment. Don't worry my dad has gentle hands, I know this because he pets me and brushes my teeth before I go to sleep. I do love when patients come by, but even more when they come to their follow up appointment and ask for me or bring me treats.
Fun Facts: I love to run in circles. Perhaps this is why uncle Mikael Tigrett named me after soccer player Leo Messi. I have also attended Napa Valley Dog Training Center where I've learned some fun commands, like sit, stay, down and in Spanish… "vamonos"!